Community Emblem: Mother of Divine Grace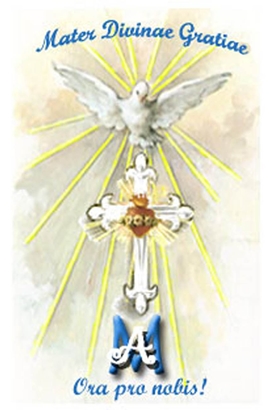 ---
With much reflection upon the infinate grace of God given to us through His Most Holy Mother, the Sisters designed a community emblem to be a symbol that depicts what a Sister of Our Mother of Divine Grace should be grateful for, and strive to implement into their lives.
Ave Maria: "Hail Mary, full of grace" is Mary's most beautiful name, the name God Himself gave to her to indicate that she has always been and will always be the beloved, the elect, the one chosen to welcome the most precious gift, Jesus "the incarnete love of God" (Deus Caritas Est, 12)
St. Louis de Montfort tell us because of Mary's consent to the Divine Will, "her prayers and requests are so powerful with (God) that He acccepts them as commands, in the sense that He never resists His dear Mother's prayer because it is always humble and conformed to His will." (True Devotion, 27)
The Sisters of Our Mother of Divine Grace allow Mary to teach us how to pray, as she did at the Annunciation. They strive to place all of their prayers, and works into the hands of Mary, so she can dispose of them as she sees fit according to the will of God.
Holy Spirit: "By the overshadowing of the Holy Spirit and in her humble acceptance of the Father's Will, Mary received the Word of God into her heart and her body thereby bringing Life to the world" (Lumen Gentium 53) .
Mary, through the goodness of the Most High and only because of the mysterious Wisdom of God, is the "inseparable companion of the Holy Spirit in all the works of grace." (TD 90)
The Sisters of Our Mother of Divine Grace call upon the gifts of the Holy Spirit received in their Baptism and Confirmation, to become effective instruments of God's grace in community life and in the service of God's Church.
The Cross and the Heart of Mary: Mary's "yes" begun at the Annunciation was her continued response to the mission of her Son from the moment of the Incarnation to His sacrifice on Calvary. The plenitude of grace and supernatural life that filled her soul intimately associated her with the saving mysteries of the life, death and resurrection of her Son.
The Sisters of Our Mother of Divine Grace stand with Mary at the foot of the Cross of Christ, offering through her hands, their lives of love, sacrifice and service, willing to carry their cross daily here to rise triumphantly with Christ for all eternity.
In light of Mary's willingness, when Jesus spoke from the Cross, Woman behold thy Son,
He gave "her evermore completely to become for all people their 'mother in the order of grace'" (Redemptoris Mater).